This post contains affiliate links. If you make a purchase through one of the links, I earn a small commission at no cost to you.
I've got to hand it to bareMinerals – they really come through with some solid makeup options for those of us suffering from fungal acne.
And not only that – but with most of their products, you're getting a "natural" formula – and most of the time natural ingredients don't really agree with malassezia.
---
By the way – if you're new here & don't know what I'm talking about when I say malassezia and fungal acne – check out these posts:
---
Ingredients like coconut oil, jojoba oil, castor oil, & olive oil – which get a lot of hype for being safe, natural, nontoxic, & chemical-free – are straight-up lipids, and the malassezia furfur yeast that causes fungal acne loves to feed on them – resulting in, you guessed it – more acne.
If you're familiar with bareMinerals, a lot of these formulas – like the Original Loose Mineral Foundation – won't be a surprise to you. They contain simple "dry" ingredients like talc and mica that won't aggravate fungal acne.
But I was surprised to find a couple of real gems in their product line that are also safe to use! I hope you find something new to enjoy as part of your makeup & skincare routine, too!
---
Want More Makeup & Skincare Options?
Grab My Free Target & Walmart Fungal Acne Shopping Lists
After I found out I had fungal acne, it was quite a task navigating the beauty aisles at Walmart or Target. I had my phone in hand – trying to look up ingredients lists and plug them into sites like sezia.co or folliculitisscout.com to see whether they were fungal acne safe or not.
Luckily – you don't have to go to all that trouble!
Download my free Walmart & Target Shopping Lists, containing all the skincare and makeup products that are free of ingredients known to feed malassezia, and safe to buy if you have fungal acne.
bareMinerals Makeup that's safe for Fungal Acne
bareMinerals Primers
---
*contains tocopherol/vitamin E, which if derived naturally can contain soybean oil, so a patch test is recommended
bareMinerals Foundations
---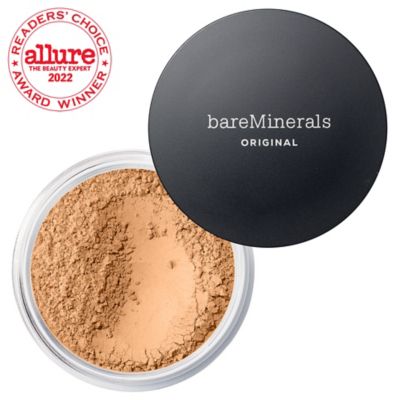 ? The foundation options here are not going to come as a major surprise – maybe you've used them in the past – I certainly have! It's available in 30 shades, which is decent.
My only issue with the loose mineral powder foundations (in both original and matte formulations) is that they can't stand up to the summer heat & humidity where I live.
Therefore, I tend to reserve use of these foundations during the winter months.
*contains Lauroyl Lysine (Amino Acid) which could cause the slow growth of malassezia in the presence of lipids.
bareMinerals Concealers
---
? This concealer is only available in 4 shades, which is v. disappointing, and the formulation isn't much different from the powder foundation.
I would skip this product, but if you're dedicated to clean/natural makeup that is fungal acne safe – it's an option for some.
? The under eye brightening powder is another one size fits all product. Who knows if it really does or not? If you've used it, I would love to hear your thoughts in the comments!
bareMinerals Blush | Bronzer | Highlighter
---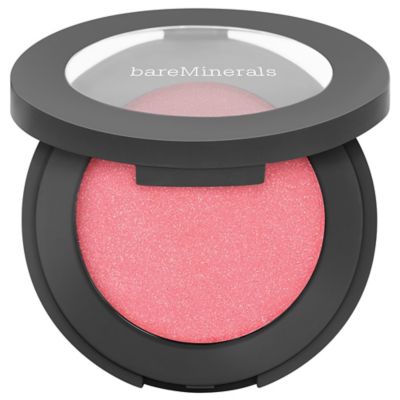 ? All loose powder blush shades are safe for fungal acne, and I use the color Golden Gate as my everyday go-to blush.
? I'm so excited to see a pressed blush option for those of us with fungal acne! And the colors are awesome.
You may have seen the Bounce & Blur line in totally gorgeous ads featuring Hailey Bieber. So obviously – if you want to look like her, just get this blush. Right?
? I'm so curious to try these all-over highlighters. While I'm sure they won't be traditional highlighters, I'm guessing it's good for some all-over radiance, as the name implies?
? I have used the warmth all-over bronzer before and don't love it, but the faux tan all-over gets higher ratings on bareMinerals website. Let me know if you've used it & what you think in the comments below!
bareMinerals Finishing | Setting Powder
---
? I can't imagine you'll need a finishing powder after putting 18 different base-layer powders on your skin, but if you are using a fungal acne safe liquid foundation – this might be a good option for you!
I do like that it comes in 4 different finishes, so you can choose the option that best fits your needs, and there's also an SPF version.
If you need a good liquid foundation that won't feed malassezia, check out this blog post.
* Contains zinc stearate and magnesium stearate, 2 unverified "salts" – so proceed with caution
bareMinerals Eyeshadow | Eyeliner | Eyebrow
---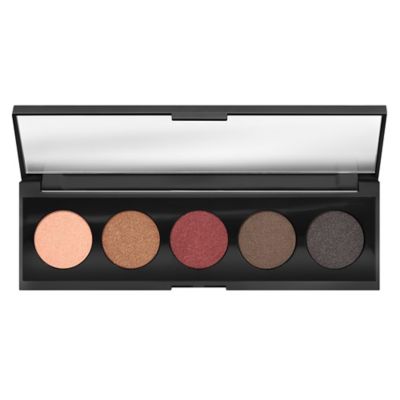 ? I am so thrilled about these eyeshadow palettes! I already love the loose mineral eyecolor, but now we have the option to create more complex, dimensional looks with one palette.
* Contains one unverified Vitamin – Pyridoxine Cyclic Phosphate – with amino acids, could cause slow growth, so be cautious here
**Limited Edition, so snatch it up if you're interested!
? If you haven't found a felt-tip liquid liner to love yet, here's another option for you. But there are also tons of these available through the Sephora Collection that are also fungal acne safe.
? Both the liner shadow & the eyebrow powder are safe for malassezia, and available in 4 shades each.
I won't deny that neither of these excited me, but again – if you're dedicated to natural/clean makeup products that also need to be fungal acne safe – these are some options for you.
bareMinerals Brush Cleaners
---
? I figured I would mention these brush cleaners since they are technically safe for those of us with fungal acne. However, I usually wash my brushes with Aveeno Baby Cleanser.
See my brush washing video for a great hack!
Hack Your Skincare & Makeup to go from Fungal Acne to Clear Skin – Fast!
I'm on a mission to help the world get clear skin!
After suffering with acne for more than 17 years of my life, I was at my wits end trying to figure out why my stubborn skin problems wouldn't go away.
Then I read about fungal acne online, and my life – and skin – changed forever!
For the first time, I got clear skin without the help of a dermatologist, expensive products, prescriptions, or harsh chemicals. And I can help you, too!
Get my From Fungal Acne to Clear Skin Guide to discover the exact information, products, and routines that got my skin clear fast.
bareMinerals Skin Care that's safe for Malassezia Folliculitis
bareMinerals Cleansers
---
? Ironically, this acne treatment gelee cleanser is safe for fungal acne, but the rest of the acne treatment line at bareMinerals is definitely not!
There are a lot of good cleansers available already at more affordable price points, so again – skip this one unless you're super curious. Check out my AM Skincare Routine for more malassezia-fighting product recommendations.
bareMinerals Face Masks
---
? For my mask junkies, here's an option for you. However, there are tons more in the Sephora Collection line, so be sure to check those out, too!
* Contains Ascophyllum Nodosum Extract – a vitamin containing amino acids, that in the presence of lipids – may cause the slow growth of malassezia.
Spread the Word About Fungal Acne
If this content was helpful for you, share it with your friends & family! Help me on my mission to prove that clear skin + amazing makeup can coexist.
You can also pin this image to Pinterest: